Up for today: THE NAMESAKE by Jhumpa Lahiri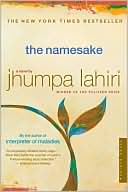 Why I bought it? I had heard some good things from online friends about Jhumpa Lahiri's writing and figured that since she had won the pulitzer prize for her collection of short stories she'd be a good bet. I wanted to read a novel rather than a collection of short stories that's why I chose The Namesake. I picked it up in paperback at the Barnes and Noble the last time I was in there.

Synopsis: It tells a story that crosses 3 generations of an Indian family. An arranged marriage. Moving to America. Tragedies. Triumphs. Trying to assimilate and retain their own traditions. As the story progresses the focus turns to Gogol Ganguli. The young son of immigrant parents and the process that brought him his name and how it affected him throughout his life. In school. In work. In his love life.
What I thought? The writing is phenomenal. Lahiri did an amazing job of showing the immigrant experience. I felt like I was right there glimpsing into the souls of the characters. In a lot of ways it was like a novel length short story. It circles around the idea of identity and how our names influence our actions and personalities. I almost didn't review this book this week because I was so upset and annoyed by parts of what happens. I couldn't figure out what rating I would give it. On one hand, I loved it. On the other hand, I hated it. I thought that I would just review the other book I read this week and be done with it, but last night I picked up my latest Reader's Digest, and there was an article about the new trends of picking baby names. It reminded me of a scene in the book and made me rethink avoiding this review. Obviously Lahiri is doing something right if she has me so up in arms over what is going on with her characters. I keep telling myself that it is not real. That these are
fictional
characters.
My Rating: **** out of 5 stars--it's what I've settled on for now. You can't know how that score has gone up and down. Maybe I should do like Natalie and quit giving number ratings. 
Cleanness Score: 7 out of 10, This was a much easier score to come up with. There wasn't much language, but there is some recreational drug use and several sexual encounters. They were not told in an erotic way, but they are there.  Those are the main reason for the score. Just so you know.