Up for today:  THE PRINCESS AND THE BEAR by Mette Ivie Harrison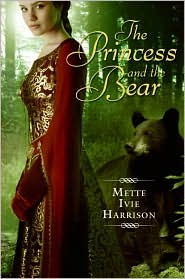 Why I bought it? It is the sequel/companion book to The Princess and the Hound that I loved. I had been keeping tabs on when it came out. 
Synopsis: A hound that was a princess for a while and a bear, who was once a human king changed into a bear because of his wicked deeds, are companions in a forest that is under attack by "unmagic." They must end the invasion of the "unmagic" to save their world from destruction. In the end, they must go back in time to when the bear was king and stop the "unmagic" before it became so powerful. When they go back in time they take on human forms. Through their adventures their attachment grows into love.
What I thought? This is technically a companion book to The Princess and the Hound and stands on its own, so if you haven't read the first one you're okay to read this one, but I would read The Princess and the Hound first. It is a fantastic book--engrossing and unexpected--and would get you in the mindset of this world. I found The Princess and the Bear very slow at the beginning. It is well written, and I think that is what kept me going. I didn't like it nearly as well as the first one, but it had its own charms. Some of you may love it. I had heard that Harrison wanted the title to be The Hound and the Bear, but the publisher insisted on "the Princess" in the title. I think her choice would have been more in line with what is in the book and wouldn't have led to false expectations. I was thinking that the princess would be the same one as in the first book. 
I was hoping to have my daughter read it before the review to have her opinions to add, but, alas, no such luck, and I didn't get another book finished this week, so... Oh well. All you get is my opinion.
My Rating: ***1/2 out of 5
Cleanness Score: 4 out of 10, This is mostly for violence. There are several fight scenes some fairly violent but nothing excessive. There is no language that I remember.