Up for today:
Leviathan
and
Behemoth
by Scott Westerfeld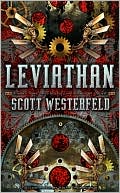 Why I bought them?
I had heard great things online about Leviathan, but I thought I wouldn't like Steampunk so I didn't buy it at first. I picked it up in the bookstore several times loving the cover and quality of the book. Debated it, thought about if one of my kids would like it, and put it back.
Natalie Whipple
raved about how good it was, so I finally decided to give it a chance. I got it up the next time I was at the Barnes and Noble. I bought Behemoth at the BN as soon as it came out.
Synopses/Set ups:
Leviathan starts at the same point as WWI when Archduke Ferdinand of Austria and his wife are assassinated. One of the main characters is their son Alek who is fleeing for his life. The other main character is Deryn, a girl masquerading as a boy to be in England's air force. The twist is that Alek is fleeing Austria in a Clanker machine (a sort of walking tank) and Deryn's ship is an enormous dirigible whale. The fun begins when their worlds (Clanker and Darwinist) collide. Here's a fun trailer that explains the difference in Clanker and Darwinist. 1:14. So not long. I love the ending line. Behemoth follows their continuing adventures. (I don't want to spoil anything.)
What I thought?
Leviathan completely swept me away. The characters feel real and grounded even though the elements of the story are fantastical. The history is actually pretty accurate although there are many departures. Some of the criticisms that I heard about the book said that the characters come across a little young for their ages and the artwork (which is amazing and part of why I had to get the print books) seems to depict them that way as well, but that sort of thing didn't really bother me. The beginning is a little slow, but don't let that stop you. Once Alek and Deryn's stories merge things really take off. I loved it. Behemoth is equally well done.
My Rating:
***** out of 5 (for both), Rare 5 star books for me. These were two of my top favorites I read last year.
Cleanness Score:
3 out of 10, There is a little light language and some fairly mild violence and a lot of peril. All in all, it's fairly innocuous. I'm even considering letting my 10 year old read it. It's recommended for 7th grade and above.