Up for today:  THREE CUPS OF TEA by Greg Mortenson and David Oliver Relin
Why I bought it? I had heard it recommended over and over. I had seen it at the book store a few times and almost gotten it. I was running errands with my daughter at Target and stopped by the books and finally grabbed it. The cover above is the one I got although I really like the other two covers I found. I included them so you could see. As most of you know, I'm a big fan of a good cover. The funny thing about this book to me is that I kept thinking it was a novel. I never actually read the blurb on the back (which I practically always do). For those that don't already know, it's not a novel at all.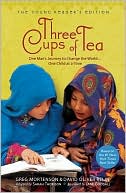 Synopsis:  Mortenson was a climber in his younger years and made an attempt at K2. He got separated from his group and turned around. He failed to reach the summit. The altitude and cold were taking their toll, and he started feeling bad and tried to go back down to their last base camp area. He missed the path to it and ended up in a little village that changed the course of his life. They nursed him back to health, and before he left he promised to build them a school. He was not a wealthy man, so he had to figure out how to raise the money. This book shares Mortenson's amazing perseverance and charisma that has brought 55 (in 2006) schools to some of the poorest people in the world--in Pakistan and Afghanistan. In a lot of ways he's fighting the war on terror with education.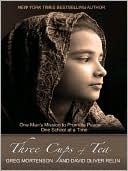 What I thought? I was blown away by all that Mortenson has accomplished--how dedicated he was to making it happen. He's a rare breed of person. He saw a need and has dedicated his life to filling that need. If only there were more people like him in the world! The author is actually Relin. He recounts Mortenson's story. There were times I was put off by his way of telling things, but the story is such a compelling one that I let a lot of that slide. A friend of mine gave up on it though, because she found it too slow moving. I didn't really have that problem. I wouldn't pass this book up for that. I would say, if you start getting bogged down, just skim to where things pick up again. Finding out what Mortenson has accomplished is worth it. It was quite an education into the world of Islam and the Taliban, etc., as well, which I think all Americans need. 
My Rating: **** out of 5 stars. It probably gets that many because of how much respect I now have for Mortenson and his compassion and triumphs.
Cleanness Score: 4 out of 10, This is mostly for violent situations.