Up for today: BACK WHEN WE WERE GROWNUPS by Anne Tyler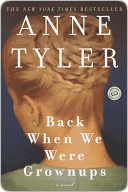 Why I bought it? A well-read, discerning friend recommended it as one of the best books he'd ever read. The next time I went to the BN I bought it and immediately read it.
Synopsis:  Rebecca Davitch begins by questioning who she has become--if she is her true self. She's 53 and wondering if she should have traveled a different path through life. Her husband that led her into her current path had died many years before leaving her to continue in his family without him. She does, even though it takes her out of her comfort zone. Her life since has been out of her comfort zone and she wonders if life would be better if she went back to what comes natural to her. She decides to give it a try by looking up her high school sweetheart, the man who was perfectly suited for her. 
What I thought?  Tyler is amazing at writing daily interaction in a family. She's captures it completely. The story is extremely well written. I was a little put off by the nicknames of so many of the characters. It made it hard to figure out who was who at first, but after a while I got it. There was a lot of humor. I came to care about the characters slowly, and by the end, it surprised me how much I was invested in them. Some books I've read lately are wonderful the first time through but less so with repeated readings. This is the kind of book that I think will get better with a second reading. It's rich with depth and resonates truth. I'm a new convert to Anne Tyler. How have I never read any of her books so far in my life? What have I been reading? I'll be reading many more in the future. 
My rating: ****1/2 out of 5 
Cleanness Score: 4 out of 10. There is a little language but not much. This score is mostly for adult situations and themes. There is nothing indiscrete really, but the book is intended for grownups.