Up for today:  BECOMING JANE AUSTEN by Jon Spence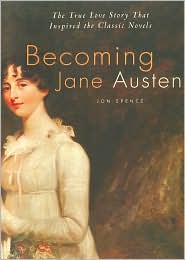 Why I bought it? It should be no surprise to you by now that I love Jane Austen. My husband and I stopped by the BN to pick up a couple books for him. I was being strong and was not going to get anything for myself. I have a stack of books at home that I need to read and some friends' stories to critique, but when I walked by the display of Jane Austen books I was sucked in, and this one caught my eye because of the movie. I wanted the "real" story behind it. So much for my determination to leave the store with no book for myself.
Synopsis: This is the biography that inspired the movie Becoming Jane and the author was a consultant for the film. It focuses a lot on the impact her sister Cassandra, her brother Henry and his relationship with their cousin Eliza, and her possible romance with Tom Lafroy had on her stories. There is a lot of time spent on family history and Jane's interaction with different family members.
What I thought? This was a very well written and researched biography. There were times though that I thought Spence was forcing his assumptions on me. I enjoyed it pretty well, but Spence went on and on over certain details and skimmed others. (I thought he spent entirely too much time on the whole Eliza and Henry story. I realize it was important in JA's life, but not for the number of pages it got in the book. That section about stopped my reading. If you find yourself getting bogged down there just skim it and move on. Things pick up after that part.) I really enjoyed the interaction of Jane and Cassandra. Some of the details that were included there really enlightened her character. The detail that one of their niece's fiancé called them "the formidables" was great. I could just picture the force they had in the family. I especially was interested in the relationship that she had with her nieces and nephews and how much she cared for those around her. 
My Rating: **** out of 5
Cleanness Score: 3 out of 10. There are details about affairs and things of that nature and people dying as would be expected in a biography from that time period. But it is all pretty tame.